Houseplant Makeover
.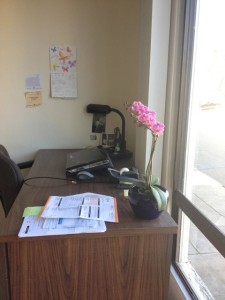 Karen, like many urban professionals,  works from home with no outdoor garden space. She loves her houseplants, but they were looking a little tired. Old soil, too-small pots, and low light over the years took their toll. A large Dracaena (corn plant) in the corner was getting too big for the space. We inventoried the plants to see what could be saved, and moved plants to get more light.
At the former Plant It Earth store on Divisadero, we found a more compact dracaena for the living room, and a few more smaller plants for the side tables. Yes, even an orchid –  they are less fussy than you think! We repotted everything into larger pots so they wouldn't dry out as fast. The old corn plant got a makeover too instead of becoming compost, and it now lives happily in the building lobby.
Link to before and after pictures .
"I put off dealing with the houseplants because I had so much else going on my life. Finally, I needed a change. Getting professional advice and some help with the work gave me the kickstart I need to keep these plants healthy.  Bringing new life into my home represents positive change that carries over to other areas of my life."
– Karen, San Francisco